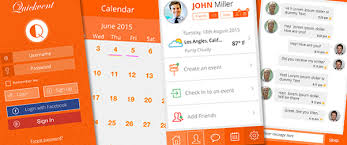 Event Details at Your Fingertips; Ensuring Convenient Event Management
Today everything can be done online. That includes bill payments to making purchases. Hence, the client needed a tool for online event management. The client needed an app that could be used to create events similar to Facebook events. His requirement was about sending the group invite to friends by pushing the "Send" button just once.
Clients are a bunch of college students who used to organize and manage many events in college. They needed an app for event management that could reduce their time and cost of printing and sending invitations.
• iOS (for iPhone version)
• Android (for Android version)
LTS developed iOS and Android versions of Quickvent app. Both versions of this app were developed for iPhone and Android phone. Tablet version is not available yet. Functionalities were developed in this app to find friends and add them to the network. Other functionalities included chatting, event creation and sending invitations. A person creating an event can add himself his ally (if any) in event management as "host" of the event. Friends invited for the event will get added as "guest" when they accept the invitation to the event.
Features
User can simply create an event by clicking on "Create Event" button and adding description of the event. There are bars and fields to select and add – date, venue and time.
Expanding friends-circle:
Like Facebook, users can search and find their friends having profiles on Quickvent and send them friend requests. Friends accepting the requests will be in the Quickvent network of the users.
User can just select the friends he/she wants to invite in the event and click the "Invite" button.
User can select the privacy settings for his/her profile and customize the degree of visibility of his/her profile information.
Two users planning to host an event can chat privately (similar to Facebook chats). Quickvent also allows group chats between more than two users.
Quickvent has the calendar feature where events created by user or being attended by user are listed on the basis of dates. Clicking on an event displays the information like time and venue.
Quickvent notifies the users about the forthcoming events that they need to attend.
Users attending an event can use the check-in feature to mark their attendance
Users can edit their profile and update things that need to be changed.
Users can import their Quickvent events into iPhone calendar.
Benefits
Creating an event and sending invitation to all invitees at the same time is easy. It saves the time of event-host.
By inviting their guests via Quickvent, hosts can save the cost of printing invitation cards or letters.
A calendar that remembers user appointments:
Users do not need to remember the events they need to attend. Calendar remembers the date and time of events and notifies users accordingly.