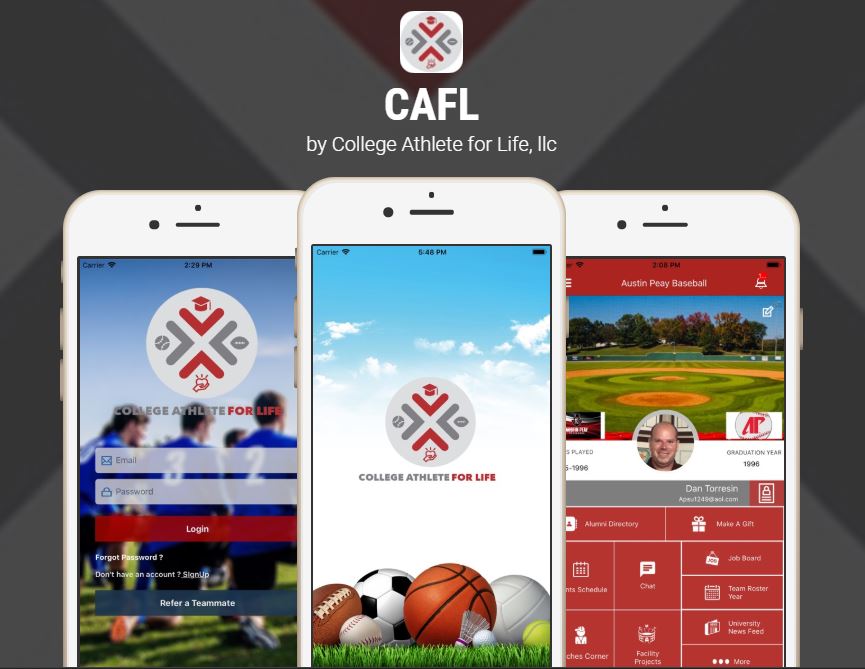 Client Name: College Athletes for Life
Project Name: Social Networking Platform
College Athletes for Life
A team culture that everyone wants to be a part of
With apps like Netflix, Instagram and Facebook converting most of our free time to screen time, it's getting difficult to connect to humans over common interests. Sports and Fitness based regimes need a conscious effort in today's world and are not as free flowing and prevalent as in the past. For a while our client was finding some kind of a fail-proof solution for his idea, something that was really close to his heart.
"More often than not, college sports teams end up dispersed over the globe, with new lives and new jobs. The emotional bond, however, of sharing victories and defeats, investing blood, sweat and tears to what was obviously more than just a game, persists. Why not rebuild this geographically distant team?"
This noble idea of reuniting college teams and building stronger alumni networks digitally opened a stream of opportunities, both professional and personal, for many.
With experience in organizing sports events as well as playing sports, we were able to understand and cleverly design an application that appealed to the undeserved Sports and Fitness market. While certain team apps mostly provide event management features, CAFL focused on a completely novel idea; re-building college sport teams virtually. With Features spanning from career change and career growth for ex-athletes, college enabled alumni networks, mentorship, and event management. We also powered the platform with an Ecommerce and advertisement aspect.
Implementing LTS's BOMT model, designed specially to assist startups in their journey towards a successful market launch, our BOMT experts considered all areas of growth, expansion and high revenue generating options. We skillfully strategized the entire gestation of CAFL, starting with Product Ideation. As a technology business accelerator, BOMT – 'Build Operate Market Transform'; performing not only the obvious, but also ensuring successful market adoption, our technological experts from Product Development focused equally on feature details, design aesthetics and seamless performance of the application.
Objective C
NodeJS
Dot.Net
Postgrace
My SQL
Shopify
GoogleMap
Payment Gateway
Social Media – i.e. Facebook, Instagram
ApplePay,
Team Roster Year – This feature allows members to find, identity and reconnect with other alumni members that played during the same years from the same college. Serving as an initial matching point, this feature helps build a network with alumni.
Alumni by Industry – With industry wise categorization, alumni members can expand their reach and acquire new career opportunities by connecting with alumni specific in the desired industry. This allows exclusive access to an industry community and various career opportunities otherwise closed.
Alumni Directory – An extensive database directly linked to numerous colleges across the USA providing profiles of alumni providing a great way to find and reconnect with friends and teammates
Job Board – Allowing alumni members to post jobs from various industries to their immediate alumni circle and pushing it forward to various alumni in a particular college and many such colleges, Job board is an important feature that allows members to search and apply to various job posts.
Events/Schedule – Detailed information of all events, tournaments hosted by immediate alumni or extended alumni groups. Allow audience to collect all information with this feature, register, get related news, buy tickets and more. This feature focuses equally on participation and fan engagement.
Stadium/Facility Projects/ Plans – Choose from a range of stadiums and sports facilities for various projects. Depending on the size of the event or tournaments, sponsors, audience etcetera, members can choose the facility that best speaks to their requirement.
Chat – a common but powerful feature allowing members to chat in a group, one to one and more allows seamless communication to share ideas, details and build and strengthen networks.
Social Media – With social media integration, members can share scores, photographs, content and commentaries and keep friends and family updated of latest events and sports tournaments
Map – Allows scanning alumni members in a given location. With alumni members' addresses pinned on digital maps, visualize the extensive network and start connecting from there.
Merchandise –Indulge in merchandise from your favorite sports brands. With indirect ecommerce integration, this feature connects you to online stores.
Make a gift – Donate to colleges through this feature and add to the community of loyal supporters of your educational institution. With this feature, members can help enhance students' education, college infrastructure and facilities.
Locker Room Bulletin- Providing right information to right people at the right time, this feature lets member publish anything and everything. Maintaining connectivity, entertainment and the sports spirit going, Locker room bulletin displays all kinds of notifications, information and announcements.
By refining, improving and incorporating augmented growth, we tested this model at several levels for performance and User Interface (UI) and User Experience (UX). CAFL today is a dynamic combination of a two sided marketplace with eCommerce and strong peer-to-peer- community. Aiming towards an innovative experience for users, constantly collaborating with our client and brainstorming, we created a high performance, optimally appealing and rich featured product to make a mark in the sports and fitness domain digitally.